After a successful Season 5, it was Savage Cup time with unlimited LPB's!! Unfortunately we have just lost two of our main ISDNers so we could only play 4 (doh!) With a new member of the UNR family Bl0key, at least we could raise a team!
| | | |
| --- | --- | --- |
| | Round One | 6th June 99 |
UNR automatically qualified due to winning the last cup, so we went straight into Round 2.. ;O)
| | | |
| --- | --- | --- |
| | Round Two | 13th June 99 |
All games in the second round were played on LFire CTF1...a new map for most of us to team play, but one I have quickly grown to love..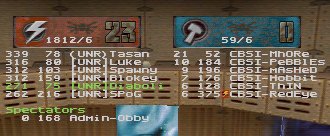 After a convincing win against CBSI who were very short of LPB's, it was on to eXe..
eXe put up a very difficult battle but hard work along with some nice joint attacks resulted in a 4 - 0 victory for UNR. On to SR...
Bl0key had to leave for revision so we were down to 5 men! Fortunately Tempest assisted and despite some con problems saved the day and we beat SR 12 - 0. The next game was against a mixture of SLPB/LPB players from FED & DTF and the odd Spook!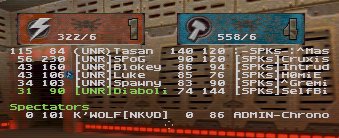 Spooks gained 4 quick captures but in the end we won the STR rune and managed a cap of our own.. Still we were through to the next round :O)
| | | |
| --- | --- | --- |
| | Round Three | 20th June 99 |
Yipes our first game was against Spooks again! They chose LFCTF1 (wonder why!)...As UNR began to take control of the game some 'members' of Spooks became very agitated and disconnected.... In the end Spooks were down to 5 men so Spawny dropped to make it even.
The game ended with a suprisingly good 14 - 0 victory against 'Spooks' on their map. Now it was UNR's chosen map of SPOGCTF1... Originally Spooks were going to pull out but in the end they decided to give us another bash.. As UNR started to pull ahead, trouble started when Admin demanded Cruxis reconnect without his proxy port..in the end he was kicked and played the rest of the game in a foul mood. Another player disconnected and one stopped playing. A disgusting attitude shown by some of the so called Spooks players, respect to Mask for his professional attitude.
UNR won 20 - 0 but then disaster struck for UNR... Bl0key had to go off line and we just couldn't raise 6 players :O( We had to play SS with 5 men. SS's map was RTCTF1...
SS used their man advantage to great affect and controlled the quad most of the game. It was a lost cause and SS beat us 6 - 0. On to our chosen map, SPOGCTF1...
An excellent performance from UNR saw a come back from 3 - 0 down.. In the end we had control but SS pulled back to defend and we ran out of time.
We were out of the cup and SS went on to play NKVD in the final. NKVD won convincingly. Congratulations to them and thanks to the Admins & Klan Wolf for making it all possible :O)